Tash Force
A comedy starring Tash McDermott, Head of Lancashire Constabulary's Football Intelligence Unit, as he tracks down the local football firm ring leader, and attempts to put a stop to "shenanigans" on the football terraces.
The premiere was held at King Georges Hall, Blackburn on 19 April 2012 and was attended by stars of the film, with Mark Woodward addressing the audience in-character. The event was a fundraiser for terminally ill McCauley Riley, a boy from Blackburn living with Adrenoleukodystrophy (ALD). Another charity to benefit from the Premiere was the Glove Project, the event raised money to fund a well for a village in Cheesay, Gambia.
The DVD and Video on demand release for Tash Force was on 23 April 2012.
Review quotes: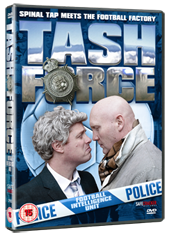 "A sharply observed comedic gem." Movie Geeks United
"Tash is the new Alan Partridge." Awesome Magazine
"Mark Woodward gives a brilliant performance as our eponymous hero, playing the role with great subtlety but also wonderful comic timing." Britflicks.com
"Cannon & Ball and Dave Spikey sprang to mind while I was watching it so if you like that kind of thing, you'll probably enjoy Tash Force." Movie Muser